Fusion Bonded Epoxy Coating
Fusion Bonded Epoxy Coated Rebar : The Right Solution for Steel Rebar Corrosion.
The Epoxy Coating provides long term adhesion to steel and ensures the reinforcing bars are protected over a wide temperature range and all climatic conditions. Few notable advantages are:
Long-term corrosion resistance
Excellent prevention to salt damage
Excellent impact resistance, bendability & adhesion
Good bond strength with concrete
Smooth and pleasing appearance
Historical Research Outcomes :
FBECR is most widely used material world-wide with evidences of field research done at Pennsylvania & New York, Florida, Virginia Department of Transportations (DOTs), North Carolina, and Georgia showing long life of decks constructed with ECR.
Pennsylvania & New York : Field survey & Lab analysis of 240 bars extracted from 80 bridge decks reported good performance of ECR extrapolating 75 years of low maintenance service life.
New York DOT : ECR performs significantly better than uncoated rebars. (Based on statistical analysis of 17,000 structures).
Florida : Most structures with ECR in Florida concrete are predicted to have 100 years of service life.
Virginia DOT : All decks with uncoated bar had been overlaid due to corrosion (18-34 years). Whereas, none of ECR decks had been overlaid. (2009 study)
North Carolina Bridges : No corrosion induced concrete distress was detected and the investigators concluded that ECR provides adequate protection for uncoated rebars and its use should be continued.
Georgia : MacKay river bridge samples did not show active corrosion despite the presence of chloride concentration at the bar depth of up to 0.079% by weight of concrete even with less than 5 mils coating thickness.
Production of Epoxy Coated Rebar
Rebar Surface Inspection
Initially black bar procured exclusively from Qatar Steel is inspected for surface defects such as seams, slivers, roll marks, oil & grease contamination etc. and non-conforming black bars are rejected to ensure superior coating quality.
Surface Preparation
Blacks bars are abrasive blast-cleaned to a near white metal finish using steel grit. This cleans the surface of steel from contaminants, mill scale, rust, and salts giving it a textured anchor profile (the microscopic peaks and the valleys on the surface) with a maximum roughness depth of 1.5 to 4.0 mil [40 to 100 μm].
Heating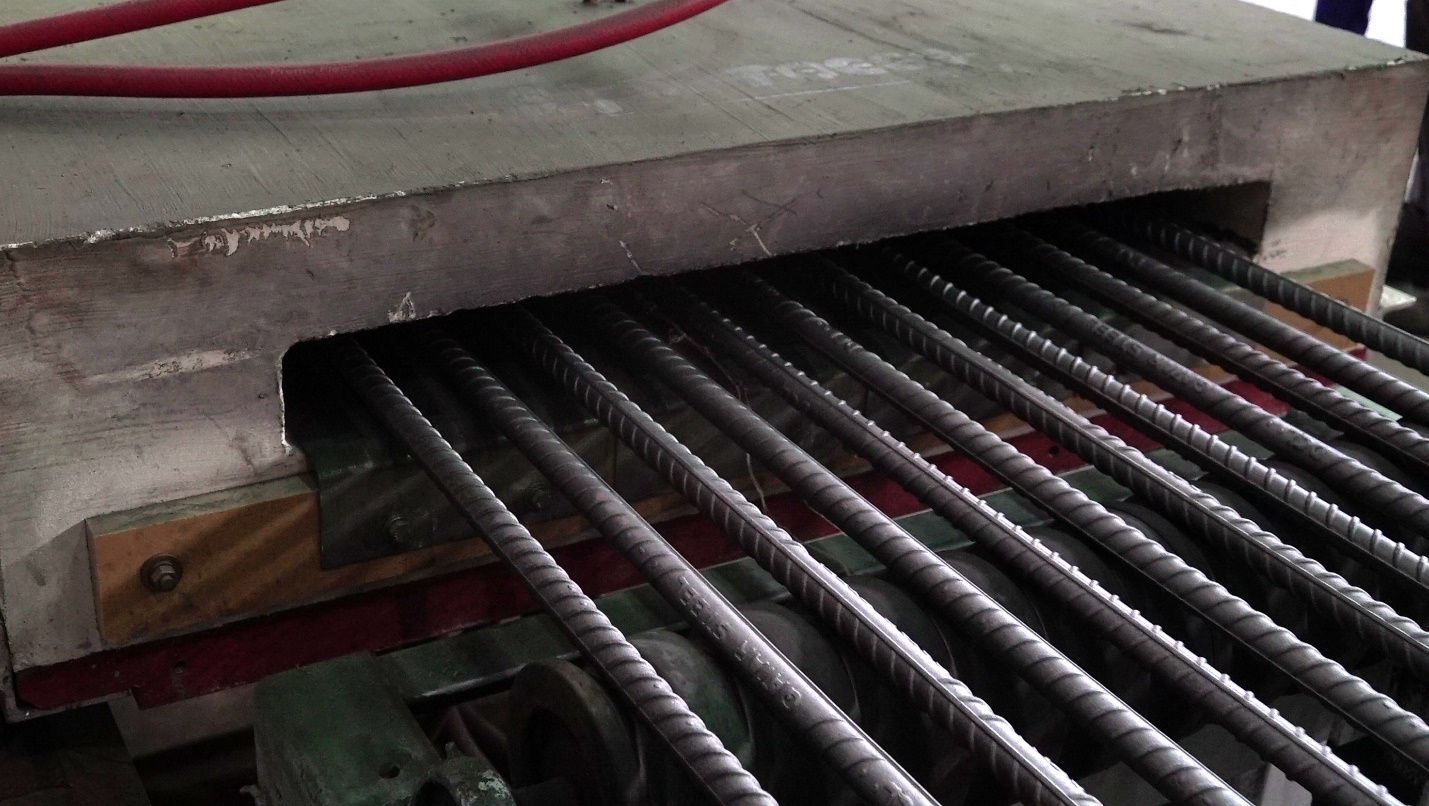 Black bars are heated to approximately 230°C using high frequency electrical induction heater.
Epoxy Powder Application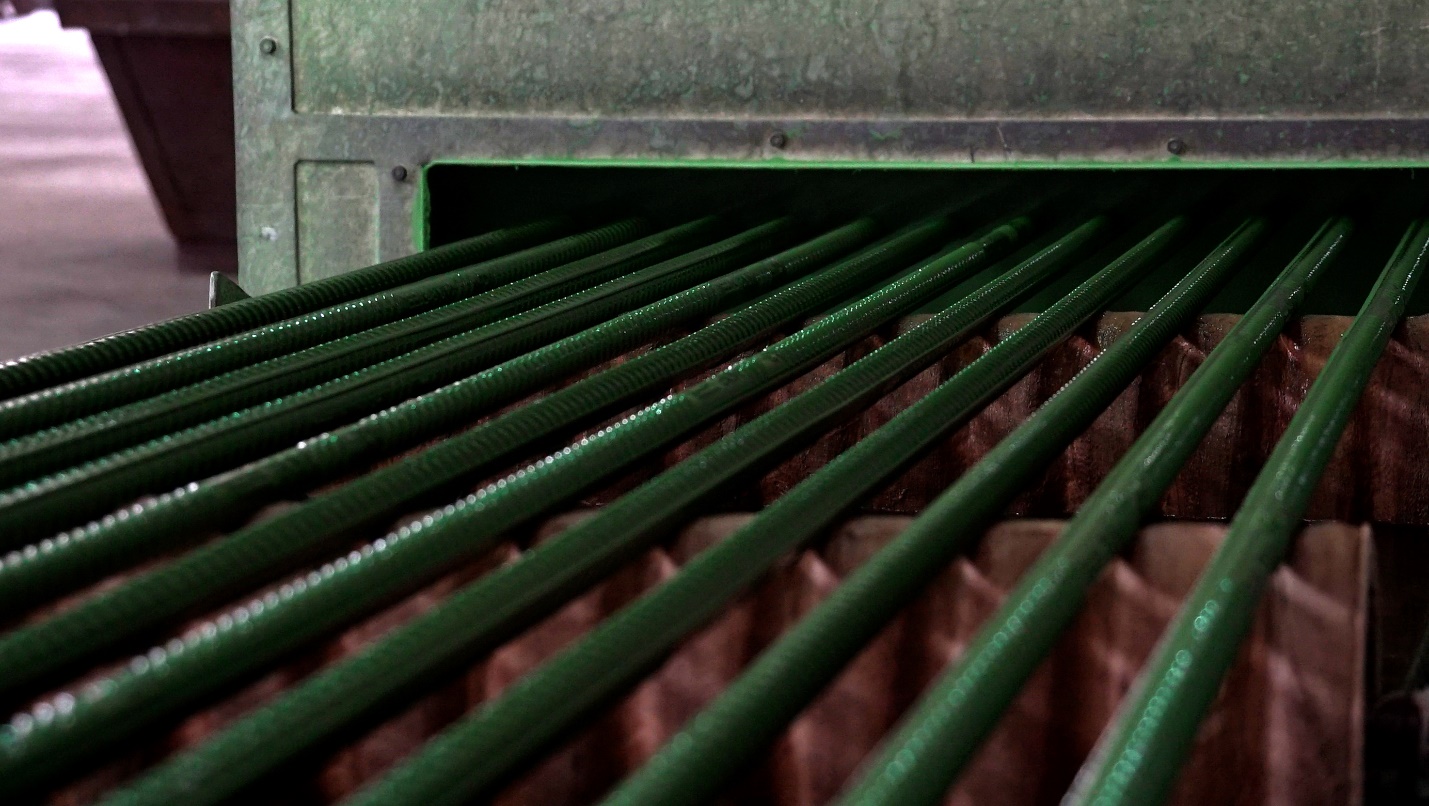 The heated black bar is passed through a powder-spray booth where the dry epoxy powder is discharged from a number of spray nozzles. As the powder leaves the spray gun, an electrical charge is imparted to the particles. These electrically charged particles are attracted to the grounded-steel surface providing even coating coverage. As the dry powder hits the hot black bar, it melts and flows into the anchor profile and conforms to the ribs and deformations of the bar.
Curing & Quenching: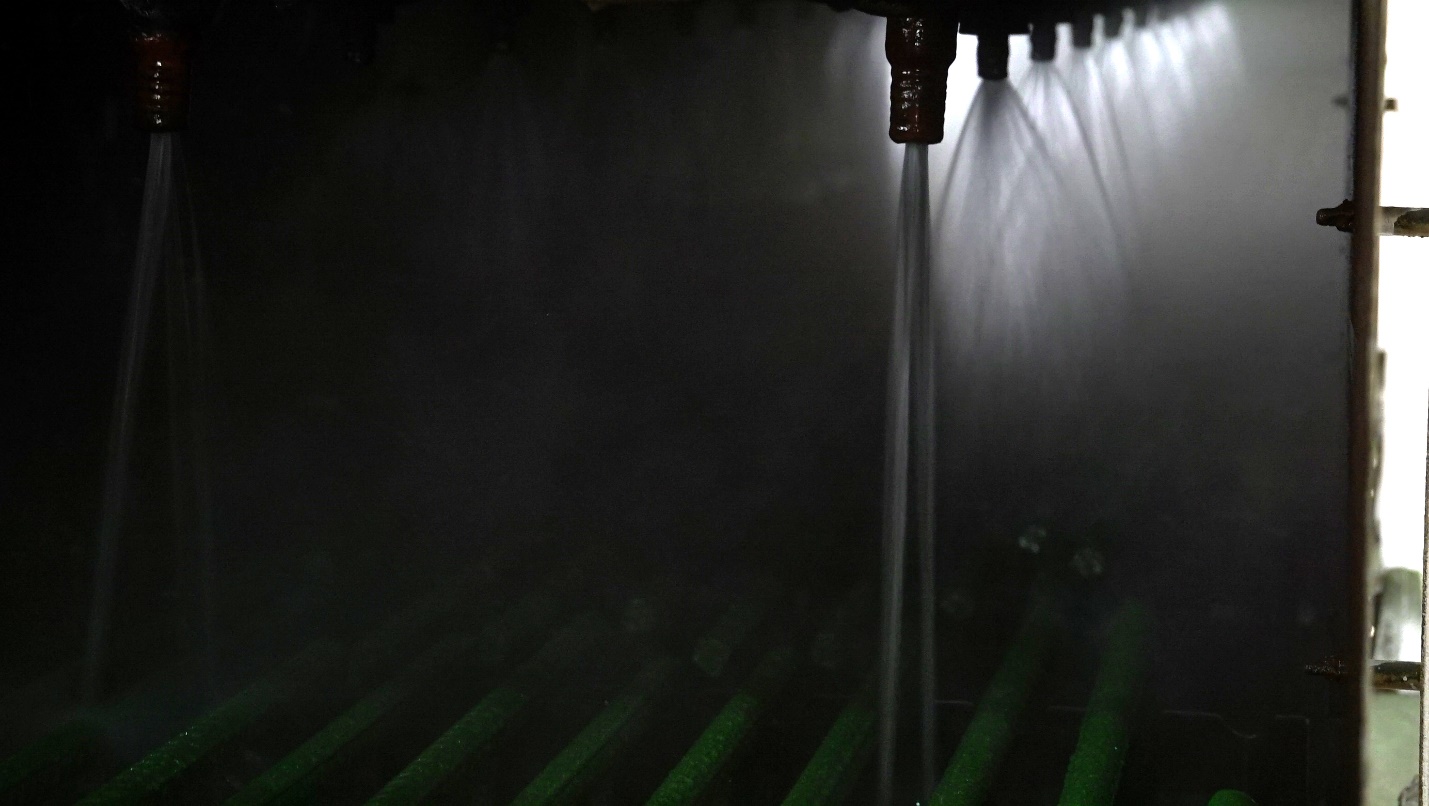 Following powder application, the coating is allowed to cure for a short period (approximately 10 – 15 seconds) during which it hardens, followed by water quenching that quickly reduces the bar temperature by suppressing the excessive heat.
Inline Quality Inspection: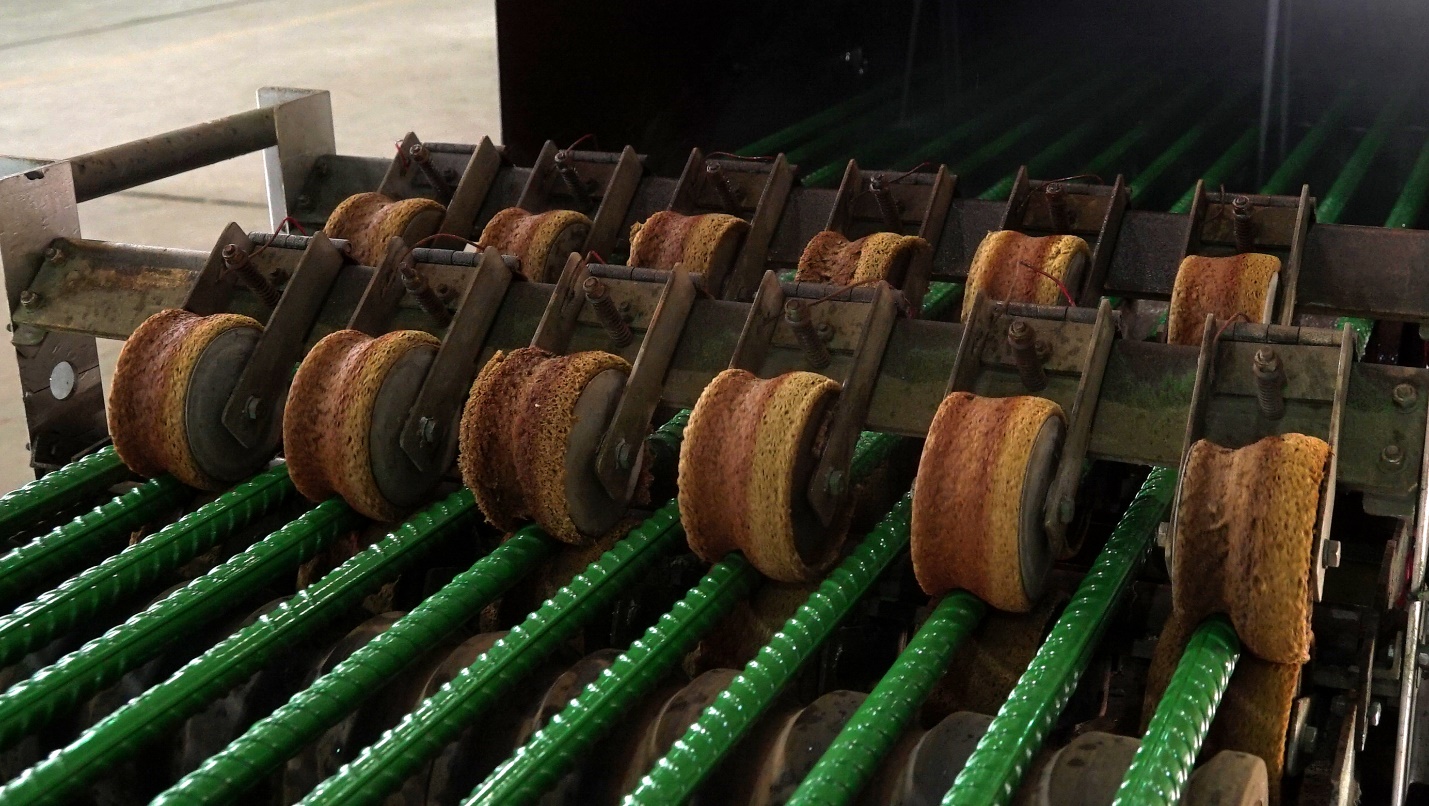 Inline holiday detector is used to measure coating holidays.
Packing: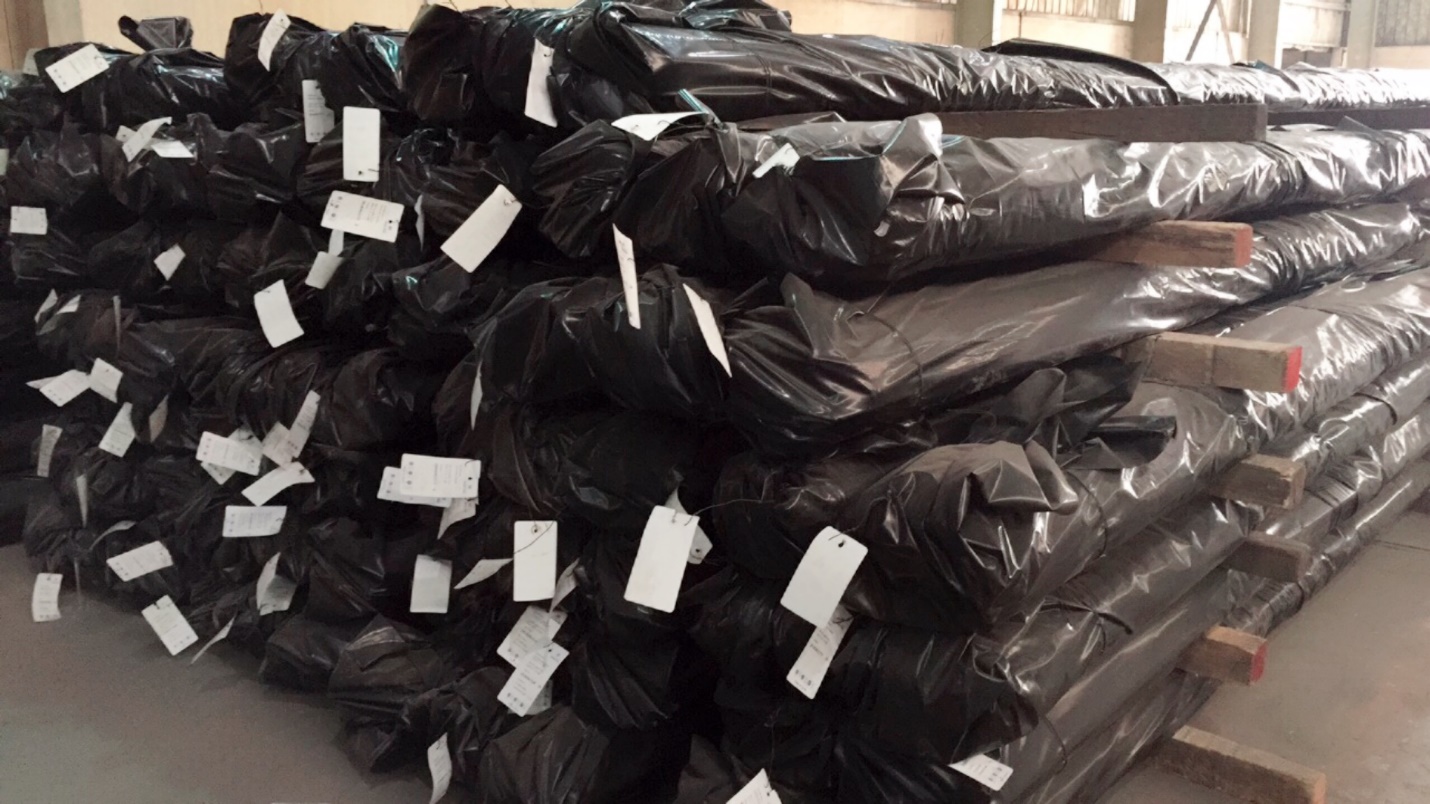 The coated bars are then carefully tied with nylon straps and bundles wrapped in protective polyethylene sheet, ready for loading & dispatch.